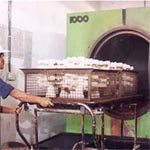 Products are manufactured using the state of the art manufacturing and testing facilities and raw materials of highest standards. Few of the critical processes are :
Wax Pattern Making and Assembly :
Wax injection with modern semi automatic wax injection press. Wax conditioning tanks being used for homogeneous wax mixing and temperature control. Assembly is carried out with environment friendly and safe miniature torches. Wax is recycled with the help of well equipped wax recycling plant.
Shelling :
Critical primary sand coating is carried out using modern Rain Fall Sander. Wax is removed in a state of the art LBBC-UK Make Autoclave. Best available ceramic sand is being used for both primary as well as secondary shelling without compromising on cost.
Melting and Casting :
Ceramic shells are pre heated in an environment friendly modern rotary shell firing furnace for uniform and better sintering of the shells. More than 50 different type of alloys were made under the supervision of experienced metallurgist using one of the best in the world melting furnaces with excellent track record on safety.
Heat Treatment and Finishing :
Castings are heat treated with well equipped heat treatment furnace and state of the art quenching facility. Heat treatment process is monitored and recorded with electronic data logger. Castings are finished by trained operators to meet the customer requirements.
Products
Goa Invescast caters to various Industries like :
Process Equipment Manufacturers (Pump and Valve Components, Pressure Vessel Components)
General Engineering (Transmission, Hydraulic Components, Desalination Plant Equipment Manufacturer)
Automobile (Gear, Brake & Miscellaneous Components)
Tool Room
Wax Injection
Shelling
De Wax Autoclave
Shell Sintering
Melting
Pouring
H.T. Furnace